Original article published on Fandom: Trading Cards Opened Me Up to a Whole New World
Trading cards began it all
At the age of 6, my wonderful mother handed a small, white, cardboard box. I was given no instructions as to what was inside, and the only indication that it was a good thing was my mother's beaming smile as she transferred her legacy to me. Her next words were the beginning of something extraordinary.
 "Go on and open it."
I cracked open the tiny container and tentatively peered inside. Before me was a row of cards stacked end to end. The contents pushed at the sides of the box, slightly bowing the edges, pleading to escape. The box was so tightly packed I had no idea what was on any of the cards. From my view, it was simply a mini box stuffed to capacity.
With my child-sized right hand, I tried to free the first card in the box. I fumbled and picked at them, my graceless fingers never finding purchase. Finally, the first card came loose along with six to ten others. I freed the alpha from its paper prison and turned it over. A golden lightning bolt emblazoned on a sea of red caught my eye. I stared at the card, mouth agape. A man stood heroically, arms at his sides, power in his posture. I had no idea who this person was. It was a super man, but not Superman. I scanned the card and found the hero's name sitting proudly at the bottom.
SHAZAM!
That moment was the beginning of my rapid descent into nerdy creativity. I spent the next few hours (and years) on the floor of my living room, pouring over every card in the deck. Guy Gardner and his giant Yo-Yo in one corner of the carpet, Wonder Woman and her golden lasso in the other, and at least 50 characters in between. Thus began my obsession with drawing and comics.
Before long, I began pestering my mom for sketchbooks and pencils. I filled each new sketch pad with recreations of my favorite trading cards and sketching the strongest heroes and villains. I would request comic after comic, copying panels and spreads like a boy possessed. The whole time, I coveted the cards I inherited. I periodically took them out and read the stats on the back, digesting and memorizing the fiction. For years I collected comics and drawing books stuffed with my sketches, loving comics and animation more and more.
My mother, the dorky saint that she is, triggered yet another event when she introduced me to Marvel Trading Cards. Not with a box of pre-purchased cards. No, this woman was a diabolical genius. She took me to a corner store in my neighborhood where packs upon packs of Marvel cards sat behind the glass counter. My mom, the queen of life-changing quotes, dropped this gem of a line on me and changed the game once more.
"Pick one." 
My Angel Investor
Back in my day, eight-year-olds in New York didn't have a lot of job options. I didn't have a ton of options in terms of making cheddar. In walks the towering pillar of power I called dad. "Go get me a newspaper," he would bellow. Upon my return from the corner, he would retrieve his New York Times and say "Keep the change."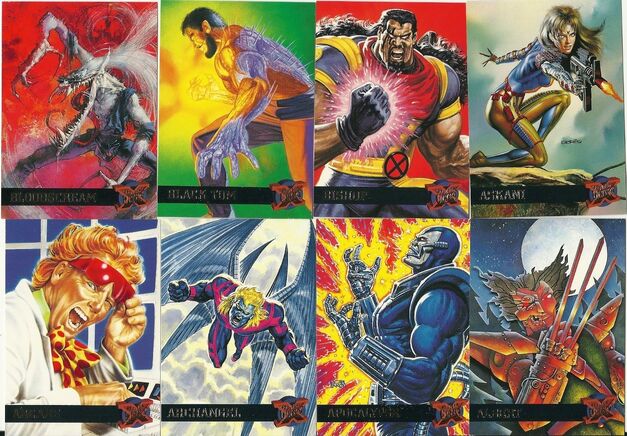 Unbeknownst to me, my father was my angel investor, lining my pockets with enough green to fund my nerdy habit. I filled folder after folder with Marvel Series 3 and Marvel Fleer Ultra Cards – my pride and joy. My mind raced with power rankings, stats, backstories. I brainstormed imaginary battles as I discovered new characters with each deck purchase. I compiled sleeves of mosaicked cards depicting superhero battles. Individual cards encased in hard plastic filled folder pouches. My obsession was full blown and fed into other aspects of my life.
With all the drawing, trading cards, comics, and cartoons I was consuming, it seemed right to my young mind that I become an artist. I dreamt of being the person on the tail-end of a pencil, creating powerful heroes and threatening villains. I drew every day, working my butt off to improve and I used my trading cards and comics as teaching tools to learn anatomy and scene composition.
Creating My Super Future
My obsession even followed me to college where I majored in cartooning. However, my drawing abruptly stopped in freshman year when I took a different creative path, leaving behind my years of drawing in favor of logo designs and website creation.
I still have the original deck of cards my mother gave me. Shazam sits proudly at the front, encased in his own personal hard plastic display sleeve. These days, my collection is modest, if incomplete. Perhaps one day I will pass them down to my daughter and potentially ignite her imagination.
Today, I have a podcast about superheroes of color called Super. Black. and I occasionally sketch poorly proportioned super people. I still read comics regularly and watch as many MCU/DCEU movies, cartoons, and series as I can. My mind is still bursting with ideas for superheroes, connected universes, and different super abilities. I keep a journal of them all in the hopes that maybe, one day, I can use them to inspire someone else. There is not a day that goes by that I don't think about creating something super or fantastical.
All because my mother gave me a tiny box full of magic.
Did this story make you want to work with me more? Head over to the contact page and get in touch! (I have no shame)