I found a pitch I made for DC You, a contest where fans can create a game show for DC Comics. My idea wasn't chosen (turns out, no idea was selected), but I still believe in the pitch after re-reading it. Also, it's just rotting away in my Google Drive, so I might as well share it. Let me know what you think and if you would play such a game. I wonder what happened to DC You…
---
DC You Game Show: DC FANmily Challenge
A trivia and obstacle course game show where a "DC FANmily" compete for amazing prizes. Think: DC-s Double Dare
Three (3) teams kick off the show by competing in "The Riddler's Challenge." The children run a series of short superhero-themed obstacles to obtaining clues to bring back to the family to help uncover and solve the riddle. The last team to solve their puzzle or riddle is eliminated.
The remaining two (2) families compete in large-scale obstacle courses themed like iconic DC locations (Arkham Asylum during Halloween, The Metropolis Experience, A speed course in Central City, etc.). There are spots to solve quick puzzles, team obstacles where the family must work to get everyone over, under, or through something, and finally, a physical challenge. The first family to get all members across the finish line wins.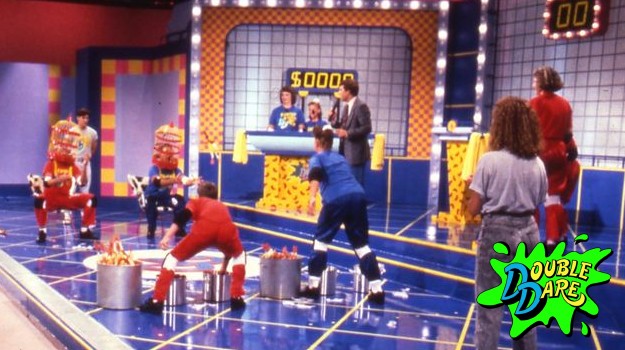 Depending on the episode's theme, actors can portray the actual heroes and villains as they cheer on their team. For example, if the theme is Coast City, Team Kilowag vs. Team Sinestro vs. Team Katma Tui would have actors portraying the heroes as they cheer on and potentially support their teams.
Contestants are dressed as their super proxy. Holiday episodes bring more themed sets and contestants.
Each episode ends with a live trivia game for the people watching at home. Members of DCUniverse.com can compete at home using the DC Fanmily app. Each question is timed. Winners of the game have a chance to win prizes and even compete in the show.
Logline:
Families compete in trivia, puzzle solving, and DC-themed obstacle courses for prizes and bragging rights.
Pilot Synopsis:
Three families enter the world of DC Comics via an obstacle course adorned by iconic DC landmarks and characters. The contestants compete in 2 rounds of challenges, both mental and physical. The two remaining teams, after round one, face off in a large-scale obstacle course, complete with DC-centric brain teasers, team events, and head-to-head obstacles. The last team across the finish wins. At the end of the episode, the host holds a Trivia game after the show where people at home can compete via the (now defunct) DC Universe app for prizes and a chance to be contestants on the show!
Season One Synopsis:
Teams of contestants compete in the DC Fanmily Arena Tournament each week. The winning "Fanmilies" are brought back for a blowout one-hour Season finale where each team competes a final time for the DC Fanmily title along with fantastic prizes.
Cast/Host/Element Breakdown
The cast consists of actors portraying DC characters. Three heroes or villains are assigned families for which they will cheer on or support during the challenges. The host will run the family competition, offer hints and suggestions, and run the After Show Trivia Game for the fans at home.
The set will be a large obstacle course themed by various locales in the DC Universe. Each episode would be themed differently, making each episode fresh and interesting. Gotham City, Arkham Asylum, Coast City, and Oa, to name a few. Each set theme has its specific DC characters assigned to them. Extras are part of the set, hanging out of makeshift windows and being living puzzles for families to help and solve (for example: find a Metropolis citizens' watch in the ball pit)
Why do you believe in your idea?
This game show will highlight the rich history of DC Comics. Locales like Apokolips, Gorilla City, and Themyscira (to name a few) will give contestants and viewers a thrill seeing their favorite locations brought to life. They also offer various creative challenges, obstacles, puzzles, and denizens. I believe this could become family appointment viewing, especially for parents looking to share their love of DC with their kids. Not to mention the contestants experience DC as no one else has before.
Does anyone else miss DC Universe?
As an aside, does anyone else miss DC Universe? I thoroughly enjoyed the comic giant's app and the direction they were going with all the fan-focused content and engagement. The user experience was pretty clean and brand consistent from a design perspective, while the UX was ever-evolving, but not without bright spots. Ultimately, it was a very comic book nerd-friendly experience, which I appreciated greatly. Warner Bros. saw fit to ditch the baby AND the bath water, and all the innovative ideas were scrapped. Maybe someone like Boom Studios or TKO Presents will pick up the baton and craft a user community like the one DC abandoned. If they need help making it, they can give me a ring.